Afterschool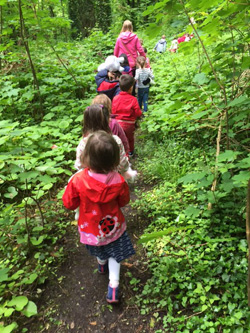 Collection from all local schools in the area by our qualified, experienced and insured staff and vehicles.
Booster seats provided for all children.
Local school bus service also available.
Hot home cooked dinner provided on arrival with special dietary needs catered for.
Supervised homework.
Indoor activities to include arts & crafts, board games and table top activities.
Outdoor football pitch.
Early morning breakfast club with school drop off.
Costs vary depending on school and class, please contact Caitríona or Edel for more information.
Service available to all primary school age children from 2pm – 6pm Monday to Friday.
ECCE
We offer the ECCE scheme which is also known as the free preschool year. For the ECCE scheme we offer a Playschool or Montessori place, which runs from 9am-12pm five days a week. For more information please contact Caitríona or Edel.
Nutrition
At Fairyhouse we take pride in our home cooked meals. We have a variety of meals over a three week carefully planned and nutritiously balance menu. Some examples of our dinners would be Tuna Napolitana, Spaghetti Bolognese, Bacon & Cabbage, Roast chicken, Beef Casserole and much more.
We also have a healthy eating policy where we encourage children to eat healthy and cut down on sugary foods. We often work nutrition and healthy lifestyles into our monthly curriculum planning as we aim to give all the children here in Fairyhouse the best start possible.